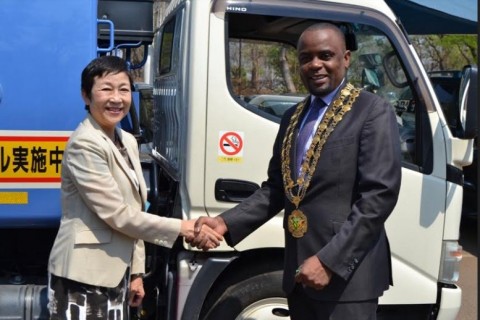 JAPAN DONATES REFUSE COLLECTION TRUCK TO LILONGWE CITY COUNCIL
18 October 2017
Refuse collection services within Lilongwe city have received a huge boost following the donation of a refuse collection truck by the Japanese Embassy to Lilongwe City Council
The donation is expected to ease the challenges the council has been facing in maintaining sanitation within the city with only six refuse collection vehicles operating in the entire city which has a population of over one million citizens.
Mayor for Lilongwe City, Dr Desmond Bikoko said the council has failed to offer satisfactory waste collection services due to inadequate resources to manage waste from the growing population which has also meant an increase in the amount of waste generated in the city.
Japanese Ambassador to Malawi Kae Yanagasiwa said an improved refuse system would help the city to look clean as well as promote healthy life among the people as most African cities continue to face the challenge of keeping their cities clean due to growing population.
The council requires at least 30 skip carriers and 200 refuse compactors to be able to deliver satisfactory waste collection services in the city.
At the moment the council has 21 skip bins and 52 street bins which are used to store waste before collection against an ideal requirement of 1,000 skip and street bins.