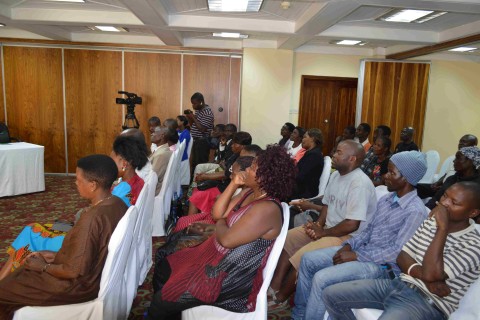 MZUZU CITY RESIDENTS VOICE OUT THEIR EXPECTATIONS OF NEW MAYOR
6 January 2017
Residents of Mzuzu city were today accorded the opportunity to voice out their expectations of the new Mayor of the city who is expected to be elected at elections to be held on Monday, the 9th of January, 2017.
The residents were accorded the opportunity through a debate for candidates vying for the position of the Mayor of the city of Mzuzu. The debate organised by Zodiak Broadcasting Station in partnership with mHub and Citizens for Justice was slated to take place at Sunbird Mzuzu Hotel.
Citizens that attended the debate did not only share their expectations of the developments in the city but also made specific mention of the deficiencies in service delivery in their respective wards that they want the new Mayor in conjuction with fellow councilors and the city council to solve.
Some of the reports include:
The Mayor should take an initiative to ensure the city council is strict on infrastructure planning. The city of Mzuzu should not have poorly designed and constructed structures.
The Mayor should establish vibrant Mayor's trophy competitions as our counterparts in Blantyre do. This helps in promoting information sharing amongst the youth and helps in ensuring the youth desist from immoral behaviors.
We have heard about reports of abuse of resources at the city council, the Mayor should come out clean on this and ensure concerted efforts with fellow councilors so that this does not continue.
The Mayor, together with the Councilor for Zolozolo East should push the city council to finish construction of the Zolozolo Health Centre and tell residents of Zolozolo the truth on what is preventing progress on the construction. The residents have waited for long and they are suffering because of this.
The Mayor should approach Shoprite management to sort out their sewage system, waste from Shoprite is running down the stream along Katoto Secondary School. This is hazardous to health.
The Mayor should convince the city council to place a waste storage dustbin around the Mataifa market.
The city council should be strict with regards giving out business operation licenses for drinking joints. In some areas Bottle Stores are very close to people's houses and therefore infringe on citizens' rights through noise and other activities.
In Jombo ward, the road where there are drinking joints leading to Thandeka is in a bad state. This road needs upgrading.
The city council should consider adding a toilet in the Mzuzu main market. The current toilets are overwhelmed.
In Geisha, Masasa ward; the quality of water is poor. The whole area is dependent on one borehole.
In Zolozolo West; the road from CCAP through Bagidadi area needs upgrading. We engaged our councilor before and we were told that it is amongst the roads for consideration under the MASAF project but we don't know when.
Efforts should be made to ensure that the city council shares with ordinary citizens information on how funds are used on various projects. Because of lack of information citizens are always speculating. An example is the small bridge that connects Chiputula and Zolozolo Wards, we understand a lot was spent on its construction even though no visible work was done, and the bridge is currently in a sorry state.
The Council should make sure that contractors are selected on merit. An example is the contractor that upgraded the road in Katawa; the job was not done well
Citizens were also sensitised on their ability to engage with the Mayor and other elected leaders as well as service providers like the city councils through the Mzinda platform. The citizens report on service delivery by sending an sms to +265 888 242 063 or by signing up on www.mzinda.com