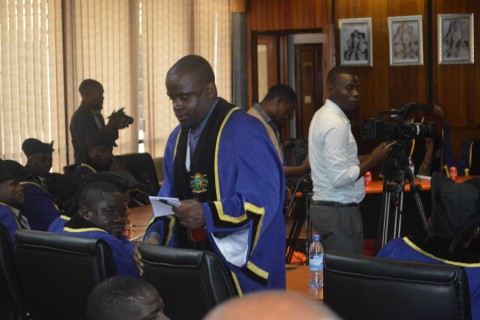 LILONGWE CITY COUNCIL USHERS IN NEW MAYOR
5 January 2017
Councillors and Members of Parliament of Lilongwe City today voted in a new Mayor and his deputy at the City Council chambers in Lilongwe. Opposition Malawi Congress Party (MCP) Councillor Desmond Bikoko narrowly thumped the governing Democratic Progressive Party Sponsored Councillor Akwame Bandawe by 15 to 14 votes. Bandawe previously served as a deputy mayor. Outgoing mayor Willie Chapondera was not nominated.
Councillor for Chilinde 1 Ward Julliana Kaduya, who is also the chair of the Councillor's women caucus was voted as a deputy mayor after defeating fellow DPP Councillor Christopher Namakhwa by 17 to 14 votes.
Proceedings of the elections which were presided over by the Chief Executive Officer of Lilongwe City Council Mr. Moza Zeleza were delayed after Independent Member of Parliament for Lilongwe City Central David Bisnowaty sought the council's guidance on the eligibility of one of the Councillors of MCP for Wilbes Kapiza.
Bisnowaty claimed Kapiza who is Councillor for Nankhaka ward was not supposed to vote at the City Council but at District Council because the Member of Parliament for the constituency under which his ward lies votes at district council. This was however shot down and Kapiza was allowed to vote.
In his acceptance speech Bikoko said he was humbled to be elected and said he was ready to work with the City Council and other Councilors without consideration of party affiliation. He said his main focus was going to be to ensure that there is an improvement in service delivery under various categories that fall under the Lilongwe City Council's mandate