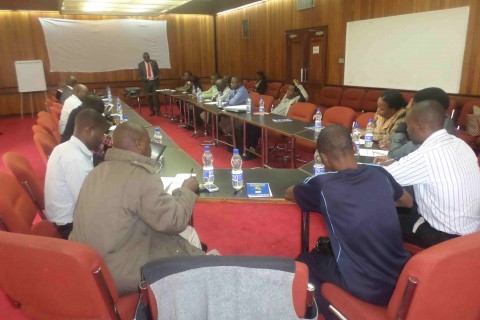 BLANTYRE CITY COUNCIL HOLD SERVICE CHARTER CONSULTATION MEETINGS
7 December 2016
The Blantyre City Council is this week holding meetings with various stakeholders seeking their input as they develop a service charter in line with their motto of "taking the city back to the people"
Public Relations Offficer for Blantyre city council Mr. Anthony Kasunda highlighted the fact that without inclusiveness in development of a service charter it is difficult for the citizenry to hold service providers accountable because of lack of information on the standards of service delivery and the basis on which the standards are set.
Mr. Alfred Nyengo, acting Director of Adminstrative Services made a presentation on the current Blantyre City Council service charter that is under review. Notably mentioned was also the role of citizens and Civil Society Organisations (CSOs) in supporting the council.
Representatives from various CSOs were placed in groups to assess the existing measurable targets of service delivery and ascertain any need of refining. Their input is expected to be considered in the revised service charter.
The Blantyre city council is one of the stakeholders in the areas in which mHub in partnership with Citizens for Justice are implementing the ICT for citizen engagement project. Under the project citizens send in reports on the status of service delivery in their respective areas through SMS on +265 888 242 063 or by signing up on www.mzinda.com.
The project is currently being implemented in Blantyre, Lilongwe and Mzuzu.