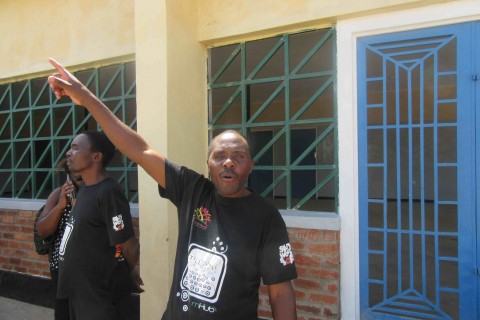 ZOLOZOLO RESIDENTS LAMENT SLOW PROGRESS IN HEALTH CENTRE PROJECT
21 November 2016
Residents of Zolozolo township in Mzuzu have lamented the slow progress in construction of a health centre in the township.
The residents who have been sending in reports through the Mzinda platform over the past few weeks say that they have been seeking answers from their Councilor Mr. Stafford Khunga who only says the project is managed by the city council.
On Saturday the 19th of November, 2016 the Mzinda team visited the construction site of the health center together with a team from the Story Workshop Educational Trust (SWET) whom mHub are partnering on the ICT for citizen engagement project. The site visit was done on the sidelines of a community dialogue session that SWET had organisaed at Katoto school ground in the city of Mzuzu.
One of the ward committee members for the area Mr. Nathaniel Chiweta said the project was close to completion but they have been surprised that for the past eight months nothing has been done to finalise on what is left of the project.
Councilor for the area Mr. Stafford Khunga said funds for construction of the project were a donation from the Malawi Gaming Board which gave the city council mandate to find a contractor but even though the construction was able to reach roofing level, the challenge in finalising the project has been that the contractor the council engaged abandoned the project. Khunga said he does not know the reasons why the contractor abandoned the project and why the council has not yet engaged another contractor.
Efforts to reach Mzuzu city council Director of Adminstration Mr. Victor Masina proved futile as he had reportedly travelled to attend a funeral. Residents say the delay in finalising the project forces them to travel a long distance to the main Mzuzu Health Center.
Citizens are able to engage with their ward Councillors, and report on service delivery issues to service providers such as ESCOM, Lilongwe Water Board, City councils among others by sending an sms to +265 888 242 063 within specific categories of water, electricity, sanitation, roads, waste collection, security and street lighting. Citizens can also sign up on the web platform www.mzinda.com