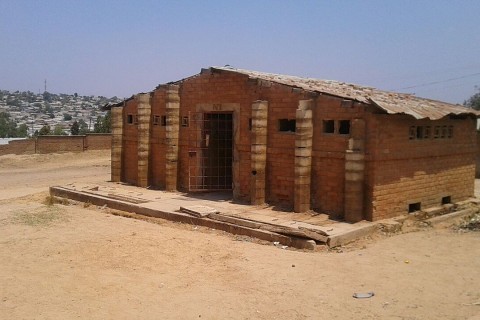 NDIRANDE AND CHILOMONI RESIDENTS IN COMMUNITY DIALOGUE WITH DUTY BEARERS
22 October 2016
Ndirande and Chilomoni community members were today the 22nd of October 2016, provided with a platform to directly engage with their elected leaders and officials from Blantyre city council at a community dialogue session organised by the Story Workshop Educational Trust (SWET). The function which was held at Nyambadwe ground was held under the Tilitonse Deepening Democracy project which SWET is implementing with support from Tilitonse fund.
The day long session also saw citizens in the company of their councillors and officers from various service providers visit sites within Ndirande township where citizens are requesting their leaders to bring development. Among the areas were Makata primary school where it is said that they are 7,725 students being taught by 64 teachers but there are only 3 functional toilets.
Citizens were also sensitised on the funding schemes through which the council and their elected leaders implement development projects. The Director of Finance at Blantyre city council, Mr. Michael Kasamba highlighted the Constituency Development Fund (CDF), Local Development Fund (LDF), Infrastructre Development Fund and the Localy Generated Revenue (LGR) fund.
SWET Project Officer Chifundo Zulu said the main purpose of the Community dialogue session was to create a forum where community members are able to interact with duty bearers and exchange views on how they can work together to solve development challenges the community members face.
"One of the major activities under the Tilitonse Deepening Democracy project is Community Dialogue Sessions. The first one of these sessions is the one we are holding today, we will also have a similar session in Mzuzu next month" Zulu said.
The citizens were also reminded of their ability to report on the status of service delivery in their areas through the MZINDA platform where they can send a message to +265 888 242 063 or submit a report by signing up on the web platform www.mzinda.com.
Renowned musician Skeffa Chimoto entertained the community members after the session.