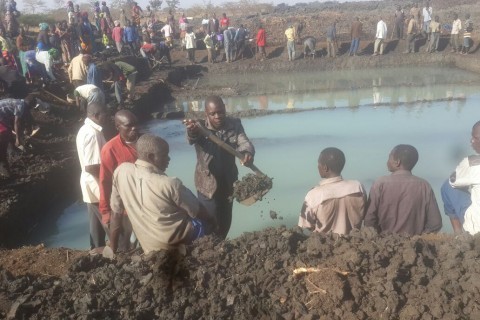 RESIDENTS OF NANKHAKA WARD WELCOME POND CONSTRUCTION PROJECT
3 September 2016
Residents of Nankhaka Ward in Lilongwe City have welcomed the initiative their councilor has taken to construct a Fish Pond in the area.
Councilor for Nankhaka Ward Wilbes Kapiza said the project is bound to assist residents in his area through commercial fish farming and also by being able to tap water from the pond for use to irrigate crops.
Speaking at the Pond construction site on Friday, Kapiza said he was grateful to Village Head Kachipula and Traditional Authority Chitukula for allowing him to use the piece of land for the project.
"The Chief has also given us a piece of land close to the pond where as a community we will grow crops commercially through an irrigation scheme that will tap water from the pond" Kapiza said.
The Pond construction project is being supervised by Mr. Kenani Mnjeza, an advisor on fish farming from Chigonthi Extension Planning Area (EPA) as well as staff from Lilongwe city council public works division. Mnjeza said progress is on track and believes by the end of this month the pond will be ready for use.
A member of the Nankhaka Ward development committee Mrs Ketrina Yotamu said they plan to save the money that will be earned from fish and crop sales in the Nankhaka Ward bank account that they opened with Opportunity Bank of Malawi. She said the funds will be used to assist the community in various areas of need.
The project is being implemented with Local Development Fund (LDF) funding under the Malawi Social Action Fund (MASAF) four projects.
Citizens from Nankhaka ward also expressed delight at the existence of the Mzinda platform through which by simply sending an sms reporting on service delivery in their ward, the report is able to reach their Councilors, Members of Parliament, City councils, ESCOM and other service providers.
Citizens can report on service delivery by sending an sms to +265 888 242 063, sign up on the web platform www.mzinda.com or share on facebook "mzindawanga"